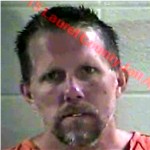 Laurel County, KY - Sheriff John Root is reporting that Deputy Kyle Gray arrested Dave Cooper, age 39, of East Hwy. 552, London, on Monday night, August 24, 2015, at approximately 7:07 PM.
The arrest occurred at a business located approximately 5 miles west of London after the owner of the business contacted the Sheriff's office reporting that he had located one of the suspects that had allegedly been stealing items from his residence and store.
When Deputy Gray arrived at the scene and conducted an investigation, he learned from the suspect that he had allegedly stolen items from the store and residence beginning in February, 2015, and continuing until recently.
Stolen items included two tile saws, one miter saw, one welder, one metal cutting saw, and other items.
The total value of the stolen property was in excess of $10,000.
Dave Cooper was charged with burglary second-degree; burglary third degree; theft by unlawful taking $500 or more but under $10,000; theft by unlawful taking under $500.
This subject was lodged in the Laurel County Detention Center. Investigation is continuing.
Photo attached is courtesy of the Laurel County Detention Center.