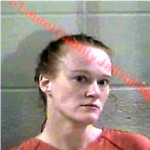 Laurel County, KY - Sheriff John Root is reporting that Deputy Jamie Grimes along with Deputy Kyle Gray while assisting Kentucky Probation and Parole officers arrested Bonnie Lockaby, age 35, of Swiss Colony Ln., London, on Monday afternoon, August 24, 2015, at approximately 3:30 PM.
The arrest occurred at a residence off Sinking Creek Road, approximately 4 miles west of London after this subject was charged on a Kentucky parole violation warrant charging absconding parole supervision and failure to complete treatment for substance abuse.
This subject was also charged on three Laurel County bench warrants of arrest for failure to appear in court on numerous traffic violations including operating a motor vehicle under the influence.
Bonnie Lockaby was lodged in the Laurel County Detention Center.
Photo attached is courtesy of the Laurel County Detention Center.