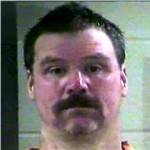 Laurel County, KY - Sheriff John Root is reporting that Deputy Rick Cloyd along with Deputy Milton Storm arrested Gregory Johnson age 41 of Echo Valley Road, London on Thursday night, August 27, 2015, at approximately 8:03 PM.
The arrest occurred off Echo Valley Road, approximately 5 miles south of London after deputies were dispatched to a domestic violence complaint alleging that a female subject there appeared to be severely beaten.
When deputies arrived at the scene and conducted an investigation, they learned that a female subject there had allegedly been beaten with a baseball bat.
Deputies noted that the victim was bleeding and was transported from the scene by Ambulance Inc. of Laurel County to London St. Joseph Hospital for treatment of severe injuries.
Gregory Johnson was charged with assault – second degree – domestic violence and was lodged in the Laurel County Detention Center.
Photo attached is courtesy of the Laurel County Detention Center.