Laurel County, KY - Sheriff John Root is reporting that the Laurel County Sheriff's Office continues to arrest suspects regarding "Operation Turning Up the Heat" --a roundup of 30 suspects in Laurel County charging various Illegal Drug Trafficking and Possession Drug offenses, following a 3 month undercover investigation conducted by the sheriff's office.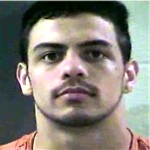 Sheriff John Root is reporting that Sgt. Brett Reeves arrested Dustin Gregory age 24 of Parker Rd., Apartments, London on Wednesday morning, September 2, 2015, at approximately 9:34 AM.
The arrest occurred on Ky 909 approximately 8 miles north of London after this subject was charged on a Laurel County warrant of arrest charging trafficking in a controlled substance – first-degree – first offense--allegedly sold oxycodone pills.
Dustin Gregory was lodged in the Laurel County Detention Center.
Photo attached is courtesy of a Laurel County Detention Center.
Arrests will be continuing. Investigations into illegal drug trafficking will continue.