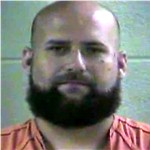 Laurel County, Ky. - Sheriff John Root is reporting that Deputy Kevin Berry arrested Shannon Collins age 37 of N. US 25, East Bernstadt on Friday morning September 4, 2015 at approximately 10:30 AM.
The arrest occurred off US 25 N. approximately 6 miles north of London after deputies responded to a complaint there.
While deputies were on the scene, on multiple occasions this subject stated that "I am a police officer just like you all." It was determined that this subject was not a police officer.
Shannon Collins was charged with impersonating a peace officer and was lodged in the Laurel County Detention Center.
Deputies assisting at the scene included Capt. Chuck Johnson, Lieut. Greg Poynter, Deputy John Inman, Deputy Shawn Boroviak, and Laurel County sheriff's bailiffs.
Photo of this subject is courtesy of the Laurel County Detention Center.