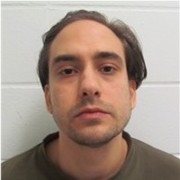 Columbia, MD -  Members of the Maryland State Police Internet Crimes Against Children Task Force (ICAC) arrested a Carroll County man on child pornography charges yesterday.
The suspect is identified as Jacob Gunther, 34, of the 7000 block of Gaither Road in Sykesville, Maryland. He was arrested without incident and transported to the Carroll County Detention Center. Gunther is charged with the possession and distribution of child pornography.
As a result of an online investigation, a search and seizure warrant was executed at Gunther's residence yesterday morning around 5:30 a.m. by the Maryland State Police Computer Crimes Unit, Department of Homeland Security, and state troopers from the Westminster Barrack. Investigators identified Gunther as the focus of the investigation.
Execution of the search warrant resulted in numerous types of digital media being seized. Gunther was arrested on scene and charged with one count of distribution of child pornography and one count of possessing child pornography.
The Maryland Internet Crimes Against Children Task Force is part of the Maryland State Police Computer Crimes Unit and is comprised of police agencies from around the state. Its primary mission is to protect children from computer-facilitated sexual exploitation. The Task Force works cooperatively with law enforcement agencies and prosecutors to provide resources to combat these crimes. Additionally, the Task Force provides community awareness campaigns helping to prevent the spread of these crimes through education.