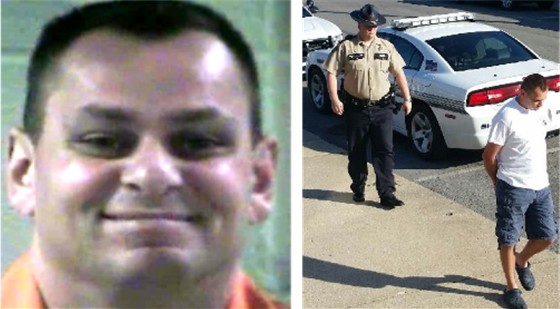 Laurel County, KY - Sheriff John Root is reporting that Detective Charlie Loomis along with Detective Kevin Berry and Lieut. Greg Poynter arrested Dewey Douglas Creech age 38 Of Court Rd., London on Wednesday morning, September 16, 2015, at approximately 10:10 A.M.
The arrest was the result of an investigation conducted by Detective Charlie Loomis and Deputy Andrew Lawson regarding a complaint of a male subject allegedly heard outside a female victim's bedroom window while she was getting dressed for bed after a bath.
The female victim called her father-in-law, who was a neighbor, to come to her house to investigate. Both the victim and her father-in-law saw a male subject come from the rear of the victim's residence and flee the scene in a white colored SUV that was observed to have radio antennas attached to the rear of it causing the victim to believe it to be an unmarked police vehicle.
The victim notified 911 and Deputy Andrew Lawson arrived to investigate the complaint south of London. Deputy Lawson learned through his investigation that apparently this female victim had heard noises outside her residence the previous three nights while she was bathing.
As the investigation progressed, the victim identified the suspect in a photo lineup, and an arrest warrant was obtained for the suspect.
Dewey Douglas Creech was charged with voyeurism; stalking – second degree; and criminal trespassing – third-degree and was lodged in the Laurel County Detention Center.
Photo of the accused courtesy of the Laurel County Detention Center.
Photo of the suspect being escorted into the Laurel County Sheriff's office by Lt. Greg Poynter for processing.