Laurel County, KY - Sheriff John Root is reporting that Detective Jason Back along with Detective James Sizemore and Deputy John Inman arrested two individuals off Little Pittsburg Road, approximately 3 miles north of London on Wednesday morning September 16, 2015 at approximately 10:38 AM.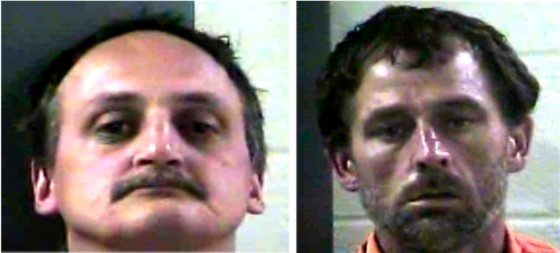 The arrests were the result of an investigation conducted by the Laurel County Sheriff's office after these two subjects were found smoking from a glass pipe that allegedly contained methamphetamine. One subject was found in possession of crystal methamphetamine.
Arrested was:
1. Clayton Morgan age 47 of May Lane, London charged with possession of a controlled substance first-degree – first offense – methamphetamine; and possession of drug paraphernalia.
2. Edward Hicks age 41 of Thelma Lane, Manchester charged with public intoxication – controlled substances and possession of drug paraphernalia.
Both subjects were lodged in the Laurel County Detention Center.
Photos attached are courtesy of the Laurel County Detention center.
Sheriff John Root is continuing to fight the war on drugs as he promised citizens that he would.