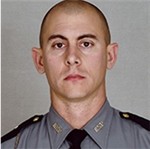 The Kentucky State Police (KSP) has received an extremely high volume of inquiries regarding the audio release of Trooper Cameron Ponder's final radio transmission, before he was murdered.
An Internet-based scanning service, not affiliated with the KSP, recorded the actual radio transmission and then uploaded the audio file to YouTube in a video format.
Upon discovery of the video, KSP immediately contacted a representative from YouTube in an effort to remove the video. YouTube responded, indicating that they carefully reviewed this request, but would not remove the video.
Additionally, we have not endorsed or provided any media outlet or news station this audio clip to use. KSP has been vigilant to contact news media who are allowing the audio clip to be played on their stations in an effort to protect the Ponder family from added pain during this already difficult time.
The KSP encourage the public to refrain from sharing this audio clip on social media sites out of respect for the family.
For those who would like to register a complaint regarding the continued use of this audio clip (video), the agency recommends that you contact YouTube directly.
You can contact YouTube at the address below:
YouTube, LLC
901 Cherry Ave.
San Bruno, CA 94066
Fax: 1-650-253-0001
Email: or