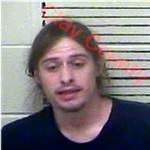 Manchester, Ky. - MPD is reporting that on Friday, September 18, 2015 the Manchester Police Department and Manchester Fire Department responded to an MVA accident with injury on the Hal Rogers Parkway.
Upon arrival Chief Chris Fultz and Assistant Chief Patrick Robinson observed James Brandon Hardesty age 25 of Pike County, the driver of one of the vehicles acting very nervous.
Through investigation the officers discovered that Hardesty was under the influence and had taken cans and placed them under his brake pedal.
Also while searching the vehicle a quantity of drugs and a set of digital scales were discovered. James Brandon Hardesty was charged with operating a motor vehicle under the influence, trafficking in a controlled substance, and wanton endangerment.
No other details were made available concerning time of the accident, the injured or the other vehicle(s) involved. However, according to jail records, James Brandon Hardesty was booked into the facility at 9:10 AM. Friday morning.
Sources: Manchester Police Department & the Clay County Detention Center.
Photo & age of the accused courtesy of the Clay County Detention Center.