Laurel County, KY - Sheriff John Root is reporting that Sgt. Robbie Grimes was dispatched to a complaint off Chaney Ridge Road approximately 4 miles north of London to a report of a subject passed out inside of a vehicle.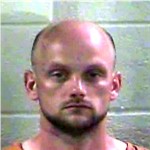 Upon arrival Sgt. Grimes observed a male subject passed out in the front passenger seat of a vehicle there. An investigation was conducted and the subject was determined to be under the influence of drugs. The subject stated he had taken a Xanax bar earlier.
The subject also gave Sgt. Grimes a false name. Upon further investigation it was determined that the subject was: Mark Westfelt age 30, of Gumm road, London.
Sgt. Grimes charged this subject with public intoxication – controlled substances and giving an officer a false name or address. It was determined that this subject was wanted on a parole violation warrant for absconding parole supervision, failure to report parole officer as directed, failure to make restitution as directed, and receiving a misdemeanor conviction on shoplifting.
The subject had previously been convicted of receiving stolen property over $500 and less than $10,000 in Laurel Circuit Court and was paroled on December 1, 2014.
In addition, this subject was wanted on a Laurel County warrant of arrest charging theft by unlawful taking regarding an alleged theft that occurred at Walmart Supercenter where this subject allegedly removed a sewing machine from its box and placed it in a trash can and exited the store without paying for either the trash can or the sewing machine. The total value of the theft was $219.94.
In addition, this subject was wanted on a Laurel County bench warrant of arrest charging failure to appear in court regarding 2 traffic violations.
Mark Westfelt was lodged in the Laurel County Detention Center.
Photo attached is courtesy of the Laurel County Detention Center.