Laurel County, KY - Sheriff John Root is reporting that Deputy Kyle Gray arrested two individuals on KY 1223 near the junction of KY 830, approximately 10 miles south of London on Wednesday night, September 23, 2015, at approximately 9 PM.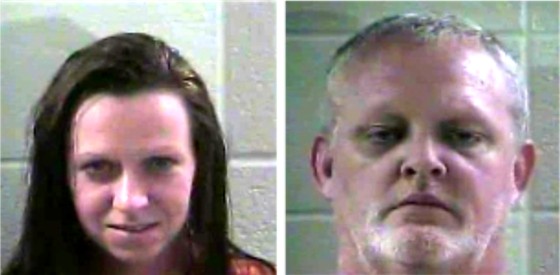 Deputy Gray was dispatched to a non-injury traffic crash involving two persons in a Honda car. Upon arrival at the scene, Deputy Gray located a female subject in the driver seat that appeared to be under the influence.
An investigation was conducted and the driver was determined to be under the influence. Arrested was Tasha Renee Foley, age 34, of North HWY. 233. She was charged with operating a motor vehicle under the influence -first offense; license to be in possession; careless driving; failure to wear seatbelts; possession of drug paraphernalia; and other traffic offenses.
This subject stated that she had taken Suboxone and Neurotin before leaving her residence. This subject also had Suboxone strips in her possession.
Also arrested was a passenger in the vehicle that was determined to be under the influence and was identified as Ronnie Carl Simmons, age 47, of Pigeon Forge, Tennessee. He was charged with public intoxication – controlled substances.
This subject admitted to taking oxycodone earlier. Also, this subject was charged on a Knox County bench warrant of arrest for failure to appear in court regarding a charge of trafficking in a controlled substance – third-degree – first offense.
Both subjects were lodged in the Laurel County Detention Center.
Photo attached is courtesy of the Laurel County Detention Center.