Laurel County, KY - Sheriff John Root is reporting that Deputy Travis Napier along with Deputy Jamie Grimes investigated a two vehicle injury traffic crash which occurred on Ky 3434, approximately 4 miles north of London on Friday afternoon September 25, 2015 at approximately 4:55 PM.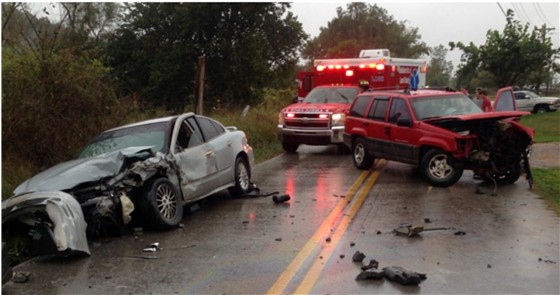 Investigating deputies report that apparently a red Jeep Cherokee collided with a Pontiac Grand Am causing the driver of the Grand Am to be trapped in her vehicle.
After the collision, the driver of the Jeep jumped out of his vehicle and fled on foot and has not been located. He is described as a white male, long hair, and wearing a white shirt. Deputies continue to attempt to locate this subject.
The driver of the Grand Am was identified as Jennifer Johnson of London. Both the driver and a female juvenile passenger were transported by Ambulance Inc. of Laurel County to St. Joseph Hospital in London for treatment of injuries from the crash.
Assisting at the scene of the crash was East Bernstadt volunteer Fire Department and London Laurel Rescue Squad.
Anyone with any information regarding the driver of the red jeep Cherokee is asked to contact the Laurel County Sheriff's office at 606-864-6600 or 606-878-7000. Information will be strictly confidential.
Photo of the crash site provided by Deputy Jamie Grimes.
**Deputies on 2nd shift investigated 10 traffic crashes between 2 P.M. and 10 P.M.-- Many were injury crashes.
Shift commander Sgt. Robbie Grimes noted that this number was unusually high for Laurel County.