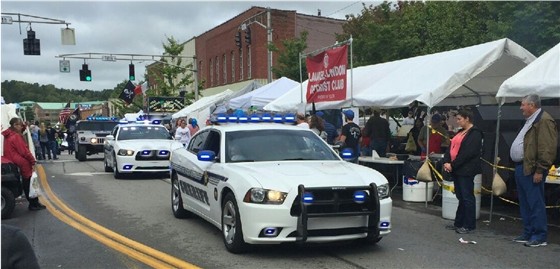 Laurel County, KY - Sheriff John Root is reporting that the Laurel County Sheriff's Office deputies continue to patrol the World Chicken Festival in downtown London with two more days of activities.
Deputies are providing a presence at the festival to assist citizens with any help they may need. Deputies on patrol will be easily spotted in the crowds because of their distinct dark blue campaign hat worn by all deputies.
In addition, the Laurel County Sheriff's Office is providing a general information booth on main street directly in front of the Laurel County Courthouse. (same location as in previous years).
Sheriff Root hopes all persons in attendance will have a pleasant and enjoyable experience.
Pictured is Deputy Josh Scott and Bailiff Brad Mink driving in today's parade.