Laurel County, KY - Sheriff John Root is reporting that Deputy Travis Napier arrested Dustin Hubbard, age 22, of Meadow Lane., London, on Monday night, September 28, 2015, at approximately 11:02 PM.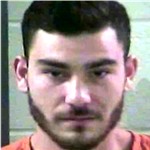 The arrest occurred after deputies were dispatched to a traffic crash on Powers Lane, approximately 8 miles south of London where allegedly this subject wrecked his vehicle and fled the scene while EMS was on the scene.
Deputies conducted an investigation and with assistance of fire department personnel near the scene were able to track this subject's movements as he fled the scene and fled to nearby Emma's Place apartments.
A bystander at the apartments directed deputies to the specific apartment where the suspect was seen fleeing to. Deputies made entry to the apartment and located the suspect hiding in a closet in the residence. Deputy Napier scuffled with the suspect briefly before taking him into custody. This suspect was determined to be under the influence and had allegedly been drinking a pint of vodka earlier.
As this suspect was being escorted to the cruiser, he created a disturbance in the area by yelling and cursing at all the neighbors there.
Dustin Hubbard was charged with operating a motor vehicle under the influence – first offense; leaving the scene of an accident; fleeing or evading police – second-degree – on foot; resisting arrest; possession of open alcoholic beverage container in motor vehicle prohibited; failure of non-owner operator to maintain required insurance – first offense; disorderly conduct – second-degree; and other traffic violations and was lodged in the Laurel County Detention Center.
This subject was also charged on a Laurel County bench warrant of arrest for failure to show up for drug testing regarding a charge of possession of a controlled substance – first-degree – first offense – methamphetamine.
Assisting Deputy Napier at the scene was Deputy Jamie Grimes, Deputy Kyle Gray, Sgt. Larry Parrott, and CSO Dougie Jones.
Also providing much assistance to deputies at the scene was Lily volunteer fire department, West Knox volunteer fire department, Laurel County EMS, and London Laurel Rescue squad.
Photo of accused is courtesy of the Laurel County Detention Center.