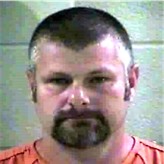 Laurel County, KY - Sheriff John Root is reporting that Deputy Rick Cloyd along with Sgt. Robbie Grimes, Deputy Kyle Gray, and Deputy Brandon Broughton arrested Aaron Lockaby age 45 Of Curry Rd., London on Wednesday night September 30, 2015 at approximately 9:50 PM.
The arrest occurred off C. Profit Road approximately 6 miles east of London after information was developed on the location of this subject.
He was charged on an Indiana fugitive warrant charging nonsupport of dependent child in the amount of $91,233.50.
Indiana advised they would extradite this individual.
Aaron Lockaby was lodged in the Laurel County detention Center. Photo attached is courtesy of the Laurel County detention Center.