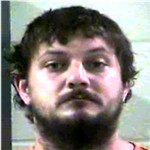 Laurel County, KY - Sheriff John Root is reporting that he arrested Donnie Johnson, age 30, of Mays Lane, London, on Thursday afternoon, October 1, 2015, at approximately 3:27 PM.
The arrest occurred on Pine Top Road approximately 2 miles west of London after Sheriff Root observed this subject who was driving a blue colored Chevrolet Blazer, fail to stop at a stop sign, and crossing onto four lanes of traffic on Russell Dyche Memorial Highway.
A traffic stop was conducted and this subject was determined to be under the influence. In addition, this subject was found in possession of marijuana.
Donnie Johnson was charged with disregarding a stop sign; operating a motor vehicle under the influence – first offense; possession of marijuana; and failure to produce insurance card.
Assisting on the investigation and arrest at the scene was Deputy Rick Cloyd.
Donnie Johnson was lodged in the Laurel County Detention Center.
Photo attached is courtesy of the Laurel County Detention Center.