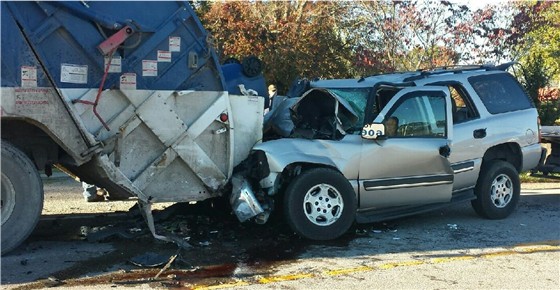 Laurel County, Ky. - Sheriff John Root is reporting that Deputy Shawn Boroviak along with Sgt. Brett Reeves investigated a two vehicle injury traffic crash which occurred on US 25, approximately 4 miles north of London on Monday morning October 19, 2015 at approximately 8:20 AM.
The investigating deputies reported that apparently Ashley Blanton age 18 of London was traveling southbound on US 25 driving a Chevrolet Tahoe when she struck a solid waste garbage truck in the rear.
It is believed that the rising sun possibly blinded the driver.
Ashley Blanton had to be extricated from her vehicle and was flown to UK hospital with very serious injuries.
The operator of the garbage truck was identified as Jerry Allen Lewis age 46 of Bimble, Kentucky – he was outside and at the side rear of the vehicle loading garbage, no injuries were reported to him.
Assisting at the scene of the crash was Ambulance Inc. of Laurel County, East Bernstadt Volunteer Fire Department, London Laurel Rescue Squad, PHI helicopter, and Laurel County Emergency Management Director Abby Hale.
Photo of crash site provided by Sgt. Brett Reeves.