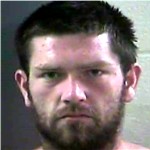 Laurel County, KY - Sheriff John Root is reporting that Deputy Craig Sutton along with Cpl. Jack Caudill, Bailiff Brad Mink, and Bailiff Cody Faulconer arrested Brian Anthony Glancy, age 27, of Lily Rd., London on Monday evening, October 19, 2015, at approximately 4:03 PM.
The arrest occurred off of Lily Road, approximately 4 miles south of London while deputies were serving a court process at the residence and learned that this subject had an outstanding Laurel County warrant of arrest.
Brian Anthony Glancy was charged with terroristic threatening – third-degree and was lodged in the Laurel County Detention Center.
Photo attached is courtesy of the Laurel County Detention Center.