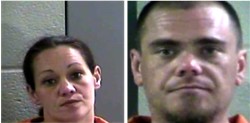 Laurel County, KY - Sheriff John Root is reporting that Capt. Chuck Johnson along with Lieut. Greg Poynter and Sgt. Robbie Grimes arrested two individuals on Tuesday afternoon, October 20, 2015, at approximately 1:56 PM off of Hatcher Road approximately 2 miles east of London while investigating a complaint in that area.
Deputies discovered two individuals that were wanted on outstanding warrants and arrested both individuals who are identified as: Jamie Baxter, age 31, of Hatcher Road, London, and charged him with failure to appear in Pike Circuit Court on charges of probation violation, three counts of fraudulent use of credit cards over $100 within a six-month period, and two counts of fraudulent use of a credit card under $500 within six months period.
Also arrested was Jeffrey Baxter age 37, of Hatcher Rd., London, charged on a Pulaski County bench warrant of arrest for failure to appear in court on charges of operating on suspended or revoked operators license, failure to surrender revoked operators license and another traffic offense.
Both subjects were lodged in the Laurel County Detention Center.
Photos of accused are courtesy of the Laurel County Detention Center.