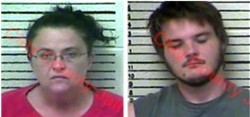 Clay County, KY - Sheriff Kevin Johnson is reporting two arrests made by Clay County Sheriff's Deputies at a residence on Elk Creek Mountain Road.
The arrests occurred after deputies went to Kimberly Marcum's residence on Thursday October 22, 2015 in reference to a stolen A.T.V. complaint.
Upon arrival, Deputy Taye Napier heard a ruffling sound in the weeds behind the residence and with further investigation, Coy Wagers ran from Deputy Napier into a wooded area. After finding Mr. Wagers, Deputy Napier located several needles, a bag of salt, and several empty baggies.
Ms. Kimberly Marcum granted the deputies permission to search the residence. When Deputy Havicus, Chief Deputy Curry, and Deputy Taye Napier made their way behind the residence they could smell a strong odor of an ether like substance. Within approximately 50 feet from the back door of the residence, the deputies located a 1 step meth lab and an HCL generator.
After interviewing Mr. Wagers, he advised that Kimberly Marcum had asked him to come to her residence in the early morning hours. He stated that she needed work done and asked him to bring some salt. He stated that he arrived at the residence around 8 or 9 a.m. and that he gave the salt to Ms. Marcum and she went behind the residence for about an hour after asking him to cut some trees around her property.
Mr. Wagers advised the deputies that Ms. Marcum returned later with a $10.00 bag of Methamphetamine for doing the work.
Kimberly Marcum age 41 and Coy Wagers age 23 were arrested on the scene.
Ms. Marcum was charged with (Manufacturing Methamphetamine) and (Poss Cont Sub 1st Degree, 1st Offense).
Mr.Coy Wagers was charged with (Manufacturing Methamphetamine) and (Fleeing and evading Police, On foot).
Both were lodged in the Clay County Detention Center.
Photos courtesy of the Clay County Detention Center