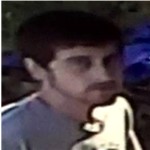 Knox County, KY - The Knox County Kentucky Sheriff's Department is reporting that on October 15, 2015 Knox County Deputy Claude Hudson received a report of a burglary at a residence on KY 1304 at Hinkle, KY. During the investigation it was discovered that a picture of the perpetrator was taken by a security camera.
The suspect was not known by the owner of the residence or the investigating deputy. The suspect's picture was posted on the Sheriff's Office Facebook page in an attempt to identify him. There were several responses from different individuals helping to identify the individual as Josh Warren of Barbourville.
On October 17, 2015 Deputy Carl Frith responded to a report of Josh Warren being seen at Billy's One Stop Market on US 25 E at Bailey Switch.
While being approached, Josh Warren fled on foot across US 25 E into a wooded area and Deputy Frith was unable to locate him.
On October 19, 2015 Josh Warren was located on KY 229 where he again avoided capture. Later that day, Josh Warren was located at a residence on Higgins Hollow Road where he fled to avoid capture a third time.
On October 21, 2015 at 6:30 A.M. Josh Warren age 22 of Barbourville, KY was apprehended at residence on Huston Broughton Road on Stinking Creek by Deputy Keith Liford and Constable Reed Murphy.
Josh Warren was charged with Burglary 1st Degree, Receiving Stolen Property, Criminal Mischief 1st Degree, three counts of Wanton Endangerment 1st Degree, three counts of Fleeing and Evading 1st Degree and three counts of Resisting Arrest.
He was lodged in the Knox County Detention Center.
Sheriff Mike Smith would like to thank everyone who identified the picture posted on Facebook. Sheriff Smith stated "this burglary and related crimes could have remained unsolved if not for the timely response of these concerned citizens".
Photo of the accused is from the Sheriff's Office Facebook page.