Knox County, KY - Knox County Kentucky Sheriff's Department is reporting that n October 27, 2015 at 1:30 a.m. Deputy Mikey Ashurst responded to a single vehicle accident on KY 223 approximately one half mile from U.S. 25E.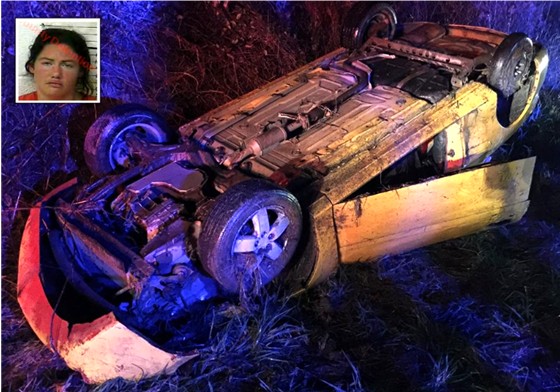 When Deputy Ashurst arrived, he observed the vehicle was upside down in a ditch beside the roadway. The driver had lost control of the vehicle and impacted an embankment causing it to rollover.
Deputy Ashurst located a 2 year old child trapped inside the vehicle. Deputy Ashurst was able to free the child who was partially ejected with his hands being pinned under the roof. The child was unrestrained in the passenger seat at the time of the crash.
The child was flown to U.K. Medical Center. The mother, Jill Sizemore was taken to the Knox County Hospital where she was treated and released.
After conducting an investigation, Deputy Ashurst arrested the driver, Jill Sizemore age 27 of Big Creek area of Knox County, KY, charging her with Wanton Endangerment 2nd Degree, Operating a Motor Vehicle Under the Influence, Failure to Use Child Restraint, No Seatbelt, Failure to Maintain Insurance, Driving Too Fast for Road Conditions, Expired Registration Plates and Expired Registration Receipt.
She was lodged in the Knox County Detention Center.
Crash scene photo from Knox County, Ky. Sheriff
Inset photo of accused courtesy of the Knox County Detention Center.