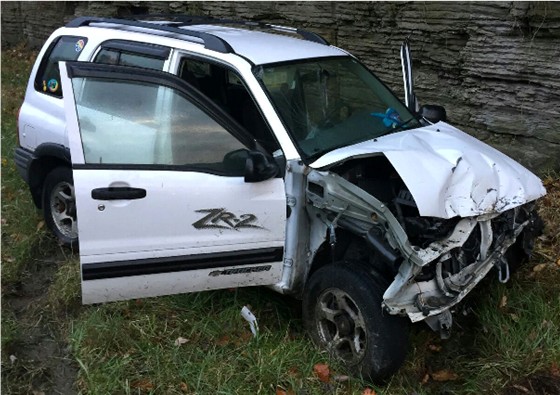 Laurel County, KY - Sheriff John Root is reporting that Deputy Craig Sutton investigated a single vehicle non injury traffic crash which occurred on I–75, approximately 7 miles north of London early Wednesday morning October 28, 2015 at approximately 7:30 A.M.
The investigating deputy reports that apparently a white colored Chevrolet Tracker was traveling southbound in the left hand lane of I-75 when her vehicle began to hydroplane on the wet pavement causing her to lose control.
The vehicle left the right shoulder of the roadway traveling approximately 72 feet before striking an earth embankment, and then traveling an additional 95 feet before coming to rest facing northbound off the right shoulder.
The driver and only occupant of the vehicle was identified as:
Kristyna McKinney age 22 of Mount Vernon, KY – no injuries were reported.
Photo of the crash site provided by Deputy Craig Sutton.