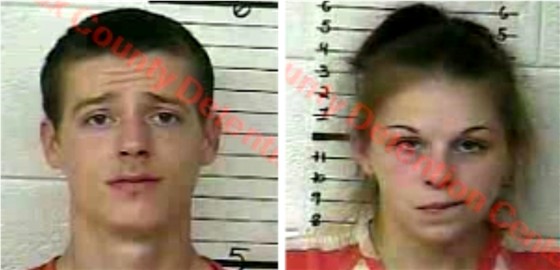 (Hinkle, Ky.) – On October 27, 2015 at approximately 1:00 p.m. Kentucky State Police, Post 10 Harlan received a call from Knox County Social Services about a five month old baby weighing only seven pounds.
Social Services told troopers the baby had been taken to Baptist Health of Corbin by the mother and then sent to U.K. Medical Center for treatment for malnourishment and several rashes. The mother was told to send the five month old to the hospital when she showed up at the Knox County Health Department to receive WIC benefits.
Trooper Russell Maynard responded to the residence on Columbia Drive in the Hinkle community of Knox County. Tpr. Maynard located both parents at the home and began an investigation.
Based on Tpr. Maynard's investigation he arrested the father, Kenneth Hooker, 24, of Barbourville and the mother, Jessica Hooker, 21, of Hinkle. Both are charged with criminal abuse 1st degree and were lodged in the Knox County Detention Center.
Case is still under investigation by Tpr. Russell Maynard.
Photos of the accused courtesy of the Knox County Detention Center.