(FRANKFORT, Ky.)—The Kentucky State Police Academy presented diplomas to 45 new troopers at ceremonies held in Frankfort on October 29. Their addition to the force brings the agency's strength to a total of 880 troopers serving the citizens of the Commonwealth.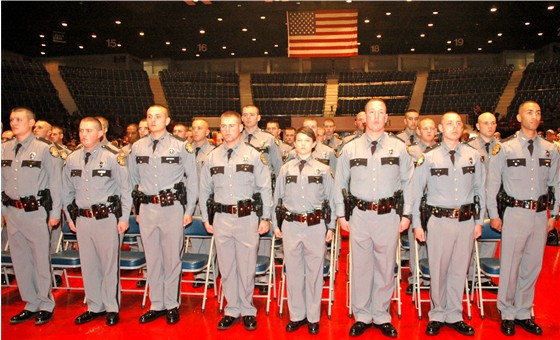 "We are grateful that throughout his administration, Governor Beshear's steadfast support of the Kentucky State Police has enabled us to continue training new cadets on a regular basis," said KSP Commissioner Rodney Brewer. "This commitment to public safety has aided our efforts to replenish our strength levels and provide strong and effective service to the citizens of the Commonwealth."
The new troopers are part of the agency's 93rd cadet class. They reported for duty on May 24, 2015 in a class that consisted of 70 cadets. Twenty-five resigned during the rigorous 23-week training cycle that followed. Four women started the program and one, Tiffany Bond, of Prestonsburg, completed the training. Two African Americans, one Asian American and one American Indian\Alaskan native also graduated in the class.
The training included more than 1,000 hours of classroom and field study in subjects such as constitutional law, juvenile and traffic law, use of force, weapons training, defensive tactics, first aid, high speed vehicle pursuit, criminal investigation, computer literacy, hostage negotiations, evidence collection, radio procedures, search and seizure, crash investigation, drug identification, traffic control, crowd control, armed robbery response, land navigation, electronic crimes, sex crimes, hate crimes, domestic violence, bomb threats and hazardous materials.
Several members of the class earned special recognitions including valedictorian Ryan Hale, of Inez, Ky., and salutatorian Jeremy Elliotte, of Jellico, Tenn.
John Northern, of Richmond, Ky., received the Ernie Bivens Award, an honor presented to the cadet who, in the opinion of the KSP Academy staff supported by input from the cadets themselves, shows distinction as a class leader, strives for academic excellence and has excelled in all phases of the academy's physical and vocational training.
Blake Owens, of Hazard, Ky., received the Commissioner's Commitment to Excellence Award, which is presented to cadets who demonstrate leadership, the desire to get the job done and the determination to be the best every day.
John Northern, of Richmond, Ky., received the Most Improved Fitness Award.
Brad Holloman, of Elizabethtown, Ky., received the Overall Fitness Award.
Three of the cadets are from Richmond and three are from Williamsburg. Campbellsville, Corbin and Hazard are each represented by two cadets.
The following is a list of the new troopers, their duty assignments and their hometowns or residences:
Post 1, Mayfield
Aaron Acree, Cadiz
Aaron, Jestes, Benton
Justin Rundles, Kevil
Post 2, Madisonville
James Austin, Central City
Brian Graves, Quinnesec, Mich.
Post 3, Bowling Green
Jordan Carter, Monticello
Briston Smith, Corbin
Damon Stevens, Whitley City
Benjamin Whitlock, Campbellsville
Post 4, Elizabethtown
Jacobe Farmer, Bardstown
Brad Holloman, Elizabethtown
Post 5, Campbellsburg
Ricky Newsom, Harold
Jared Payton, New Castle
Post 6, Dry Ridge
Patrick Davis, Hendersonville
Cory Elliott, Danville
Donnie Jones, Williamsburg
Zachary Lusk, Lexington
John Northern, Richmond
Jason Scheiding, Dry Ridge
Post 8, Morehead
Derrek Lovett, Williamsburg
Steven Morris, London
Scott Townsley, McKee
Post 9, Pikeville
Tiffany Bond, Prestonsburg
Ryan Hale, Inez
Bobby Roberts, Topmost
Jonathan Rouse, Dana
Jeffery Stumbo, Harold
Post 12, Frankfort
Jacob Guffey, Fisherville
Stuart Jackson, Richmond
Alex Ware, Mt. Washington
Justin Yeary, Harrogate
Post 13, Hazard
Justin Barton, Middlesboro
Jeremy Elliotte, Jellico, Tenn.
Corey Jones, Somerset
Samuel Peace, Williamsburg
Leo Slone, Pippa Passes
Daniel Smoot, Corbin
Post 14, Ashland
Bradley Couch, Hazard
Zachary Scott, Russell Springs
Cory Tharp, Argillite
Post 16, Henderson
Jakob Clemons, Leitchfield
Scott Curry, Greensburg
Michael Jacobs, Richmond
Blake Owens, Hazard
Antonio Robinson, Campbellsville
Each new trooper will be supervised by a training officer for six to eight weeks after reporting to their post assignments.