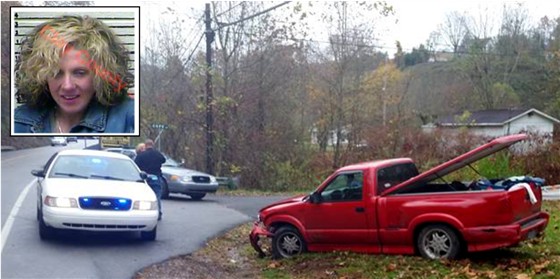 Clay County, KY - MPD is reporting that on November 1, 2015 Manchester Police Sgt. Jeff Collett observed a red Chevrolet S-10 truck that had been reported to officers as stolen a couple weeks earlier.
Sgt. Collett frst came in contact with the vehicle on Charlie Sizemore road just north of Manchester. Sgt. Collett began to follow the vehicle while contacting Officer Jason Combs by radio advising him the vehicle was traveling south on US 421 towards Manchester.
The driver of the truck accelerated the vehicle in an attempt to put distance between her and Sgt. Collett and while attempting to make a right turn onto Fox Hollow Road, struck another vehicle.
The driver of the truck, Fonda Walters, then preceded to exit Fox Hollow Road when Sgt. Collett activated his lights and siren and attempted to stop the truck by pulling in front of her. The driver did not stop and continued on nearly striking the police cruiser.
Sgt. Collett pursued Walters north on US 421 when she lost control of the truck and left the roadway at Cope Road. Walters was apprehended when she tried to exit the vehicle.
Walters was arrested and charged with Theft by Unlawful Taking (auto), Fleeing or Evading Police 1st degree (motor vehicle), Resisting Arrest, Operating a Motor Vehicle Under the Influence of Drugs/Alcohol 1st offense (aggravating circumstances), Wanton Endangerment 2nd degree (police officer), Leaving the Scene of an Accident/Failure to Render Aid, Driving DUI Suspended 1st offense.
Fonda Walters age 39 of Manchester was lodged in the Clay County Detention Center
Sgt. Collett was assisted in the arrest by MPD Officer Jason Combs and KSP Trooper Jake Roberts.
Tpr. Roberts is also the investigating officer in the collision that occurred on Fox Hollow Road.
Inset photo of the accused courtesy of the Clay County Detention.
Crash scene photo by MPD Sgt. Jeff Collett.