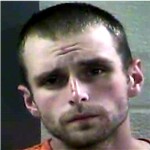 Laurel County, KY - Sheriff John Root is reporting that Deputy Jamie Grimes arrested Dustin Patterson, 22, of Four Oaks Rd., East Bernstadt on Monday evening, November 2, 2015, at approximately 6:07 PM.
The arrest occurred off of Four Oaks Rd., approximately 7 miles north of London after Deputy Grimes was dispatched to investigate a suspected stolen moped that had been observed setting up against a porch at a residence off of Four Oaks Rd.
When Deputy Grimes arrived at the scene, he conducted an investigation on the moped found there and determined that it was a reported stolen moped.
Deputy Grimes continued his investigation at that residence determining that the subject that lived there had allegedly obtained the moped. The subject advised that the moped had been given to him.
Dustin Patterson was charged with receiving stolen property under $10,000 and was lodged in the Laurel County Detention Center.
Photo attached is courtesy of the Laurel County Detention Center.