Clay County, KY - Sheriff Kevin Johnson is reporting an arrest made in the evening hours on Friday, November 6, 2015 on Paw Paw Road approximately 4 miles west of Manchester.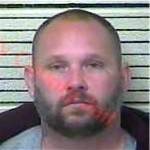 The arrest occurred after Deputy Taye Napier along with Trooper Jarrod Smith were going to Paw Paw Road in reference to a warrant on Eugene "Corky" Price.
When the officers approached the residence where Mr. Price was believed to be staying, they observed a Red S-10 sitting at the end of the driveway. Mr. Price was in the driver's seat with the driver's door open speaking to a man who was believed to be a relative.
The officers then asked Mr. Price if they could search the vehicle in reference to drugs or guns, he then agreed. Upon searching the vehicle Deputy Napier noticed a hand gun on the passenger side floor board.
After securing the weapon, Trooper Jarrod Smith observed a clear plastic bag containing individually packaged small clear plastic bags, containing a crystal substance believed to be methamphetamine, under the passenger side of the vehicle.
Eugene "Corky" Price was arrested for Possession of Firearm by Convicted Felon, Traff In Cont Sub, 1st Degree, 1st Off (> or = 2 GMS METHAMPHETAMINE), Poss Cont Sub, 1st Degree, 2nd Offense (METHAMPHETAMINE), Serving Warrant (For other Police Agency).
Mr. Price was lodged in the Clay County Detention Center.
According to jail records, a cash bond of $25,000.00 has been set for Mr. Price.
Photo courtesy of the Clay County Detention Center