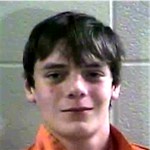 Laurel County, KY
- Sheriff John Root is reporting that Deputy Jamie Grimes along with Sgt. Robbie Grimes and CSO Joshua Morgan arrested Joshua Hollingshead age 18 of Highway 2392, Corbin on Friday afternoon November 13, 2015 at approximately 4 PM.
The arrest occurred off Ky 2392, approximately 7 miles south of London after deputies were dispatched to a domestic disturbance there.
Upon arrival deputies learned that this subject had fled out the rear of the residence and went into the woods. Deputies conducted an investigation and learned that this subject had allegedly pushed his mother and was allegedly highly intoxicated and appeared to be under the influence of other drugs.
After approximately 10 min. this subject returned to the residence and was arrested without incident by deputies.
Upon arrest this subject began creating a disturbance in the area. Joshua Hollingshead was charged with assault – fourth degree – domestic violence; disorderly conduct – second degree; and public intoxication – controlled substances.
This subject was lodged in the Laurel County Detention Center.
Photo attached is courtesy of the Laurel County Detention Center.