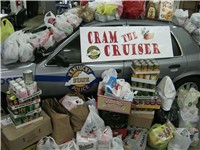 (FRANKFORT, Ky.) - Kentucky State Troopers and Commercial Vehicle Enforcement Officers will help brighten the holiday season for families in need this year through the sixth annual Cram The Cruiser food drive, which started on Nov. 20 and will continue through Dec. 11.
"Service to those in need goes hand-in-hand with our law enforcement mission," says KSP Commissioner Rodney Brewer. "It's a way to repay the local communities that support us throughout the year."
Food collection sites have been established at all 16 KSP posts throughout the state and at the agency's headquarters in Frankfort. (Visit the KSP website at kentuckystatepolice.org for a listing of the post locations. http://www.kentuckystatepolice.org/post.htm)
Suggested non-perishable food donations include canned fruit and vegetables, canned meat, macaroni and cheese, cereal, peanut butter, jelly, canned soups, chili or spaghetti sauce, brownie and cake mixes, coffee, water, powdered milk and juices.
The food will be distributed at post level to local shelters, churches or other organizations serving those in need.
KSP spokesman Sgt. Michael Webb said the agency collected more than 232,011 pounds (116 tons) of food statewide during last year's Thanksgiving and Christmas holiday season.
"Last year, KSP Post 10 in Harlan led all KSP posts and CVE regions with 43,825 pounds of food collected," said Webb.
Brewer initiated the program in 2010 to assist needy families in the local post and region areas. Since that time, the agency has contributed more than 500,000 pounds of food to shelters, food banks and churches across the Commonwealth.
"Cram the Cruiser is a great example of law enforcement partnering with civic organizations, businesses and private citizens to make a real difference in local communities throughout the Commonwealth," says Brewer.
Flyer Link: CramFlyer.pdf