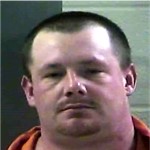 Laurel County, KY - Sheriff John Root is reporting that Sgt. Larry Parrott along with Deputy Andrew Lawson arrested Michael Cornett, age 34, of Mt Zion Rd., East Bernstadt, early Saturday morning, November 21, 2015, at approximately 6:20 AM.
The arrest occurred off Mt Zion Road, approximately 13 miles north of London after deputies were dispatched by Laurel 911 dispatch center regarding a female subject that had alleged that she had been beaten all night and she had tried to call for help several times but that the male subject there would not allow her to.
When deputies arrived at the scene and conducted an investigation, they learned that the male subject had allegedly been drinking beer and snorting pills and had choked and hit the female victim several times throughout the night.
The female victim had several marks on her neck, arms, and shoulders where she had allegedly been assaulted.
Michael Cornett was charged with assault fourth degree – domestic violence and was lodged in the Laurel County Detention Center.
Photo attached is courtesy of the Laurel County Detention Center.