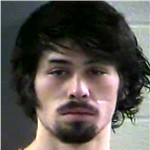 Laurel County, KY - Sheriff John Root is reporting that Deputy Shawn Jackson arrested Daniel Boggs, age 22, of Robert E. Cox Road apartments, Corbin, early Tuesday morning, November 24, 2015, at approximately 4:16 AM.
The arrest occurred on Locust Grove Road, approximately 7 miles west of London after Deputy Jackson was dispatched to a complaint that a male subject had set fire to a mobile home on Locust Grove.
When Deputy Jackson arrived at the scene, he learned that the suspect had fled the scene. Deputy Jackson conducted an investigation where he learned that this subject had allegedly got into an altercation with his girlfriend, and had assaulted her by hitting her in the mouth and choking her – the victim had red marks on her neck.
Deputy Jackson further learned from witnesses and the victim that this subject had gotten more upset and stated that he would burn the trailer down. The trailer had a burned circle in the floor and a strong smell of Coleman fuel nearby – the fire had burned through and was smoldering under the floor.
Keavy Volunteer Fire department extinguished the fire. Deputy Jackson located this subject walking on the side of Locust Grove Road and learned from this subject that he had been hiding in the woods.
This subject further stated that he had been drinking vodka and he did ignite the fire because he was mad. Daniel Boggs was charged with arson – third-degree; assault – fourth degree -domestic violence; and alcohol intoxication in a public place.
Daniel Boggs was lodged in the Laurel County Detention Center.
Photo attached is courtesy of the Laurel County Detention Center.