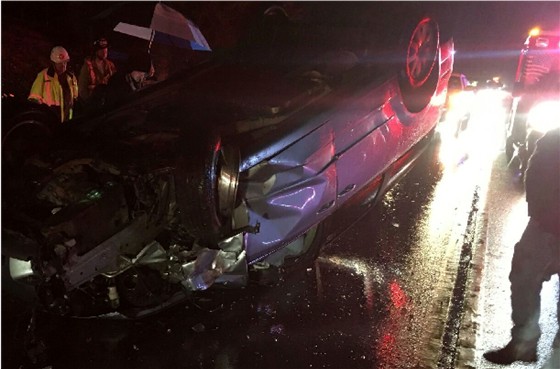 Laurel County, KY - Sheriff John Root is reporting that Deputy Jamie Grimes along with Deputy Rick Cloyd investigated a single vehicle injury traffic crash which occurred on Ky 312 approximately 10 miles southwest of London on Saturday night November 28, 2015 at approximately 6:03 PM.
Investigating deputies report that apparently a Town and Country Chrysler minivan ran off the roadway on rain slick roads, hit a concrete tile in a ditch, and then hit a tree causing the vehicle to overturn.
The driver was identified as Mavis Buchanan age 81 of Corbin and was transported to Baptist Healthcare hospital by Ambulance Inc. of Laurel County for treatment of injuries.
Assisting at the scene was: Keavy Volunteer Fire Department.
Photo of crash site provided by Deputy Jamie Grimes.