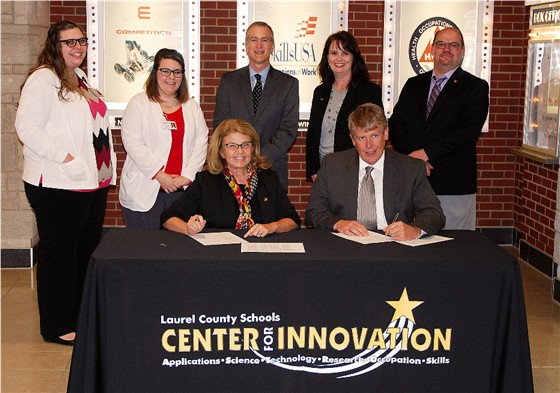 Union College and the Laurel County School District have established a partnership that will allow high school students to enter a career pathway through the college's Edna Jenkins Mann School of Nursing.
An agreement was formally adopted and officially signed by Union President Dr. Marcia Hawkins and Laurel County School Superintendent Dr. Doug Bennett on November 18 during a ceremony held at Laurel County School District's Center for Innovation. Union's Vice President for Academic Affairs, Dr. David Johns; Dean of Health Science, Marisa Greer; students in the BSN program; and CFI Principal Dr. James Davis also attended the signing ceremony. The Center for Innovation offers specialized high school pathways designed to prepare students to enter the college or career path of their choice. The pathway agreement will benefit students in the Allied Health Science program of study at CFI, said Dr. James Davis, Principal.
"This agreement is monumental for our students," Dr. Davis said. "The collaboration will allow our students a career and college pathway that will create an immense amount of opportunity for them in the healthcare field."
"It is wonderful to see what the students in Laurel County are achieving through the Center for Innovation and we are excited to offer them an opportunity to further their education, and career pathway, here at Union College," said Union President Dr. Marcia Hawkins.
Dr. Davis said the Center for Innovation will provide students with specialized courses, such as Principles of Health Science, Medical Terminology and Nurse Aide Practicum, to prepare them for post-secondary education in healthcare concentrations. CFI students who graduate with at least a "B" grade in those courses will be offered direct admission to Union's Bachelor of Science in Nursing (BSN) program. Admittance to the BSN program is competitive and only a limited number of students are accepted each year. CFI students will benefit from the agreement in others such as being eligible for Union's scholarship programs and having certain fees and courses waived.
The agreement will primarily benefit students looking for a career in nursing, but other opportunities are possible with the partnership agreement, said Dr. David Johns, Union's Vice-President for Academic Affairs.
"Our goal with this partnership is to create a solid pathway to college and then onto a career in healthcare," Dr. Johns said. "Union is committed to providing quality and affordable education that impacts the health of our region. We will work closely with Dr. Davis and Dr. Bennett to find other education and career pathways that will benefit the students in Laurel County."
CFI has programs in Allied Health Science, Biomedical Science, Engineering Technology and Industrial Maintenance Technology. The school administrators are in the process of adding a Media Technology concentration to their programs. The school officially opened to students in 2015 and is already seeing great success in the level of student achievement created through the programs.
Dr. Bennett said establishing agreements with post-secondary institutions like Union College will serve the immediate needs of the CFI students as well as strengthen the economic health of the region.
"We are creating opportunities for these students and creating new opportunities for our communities that are not available elsewhere," Dr. Bennett said. "Our students can gain quality education and move directly into a sound career without having to leave our region to do so."
"The students Union College will be receiving will have a healthcare foundation and knowledge base that will be top-notch," Dr. Davis added. "They will come to Union College and be ready to go."
To learn more about the Laurel County Center for Innovation, please visit www.laurel.kyschools.us. You can learn more about programs at Union College, including the Edna Jenkins Mann School of Nursing by visiting www.unionky.edu.