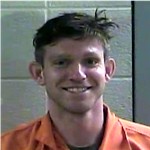 Laurel County, KY - Sheriff John Root is reporting that Sgt. Larry Parrott arrested Andrew Rose, age 30, of Moore Hill, Corbin, early Tuesday morning December 1, 2015, at approximately 3:56 AM.
The arrest occurred off Rose Street, approximately 11 miles south of London after Sgt. Parrott was dispatched to a complaint that the subject was attempting to get into his mother and father's residence, which he had allegedly been trespassed from previously.
Allegedly, the subject was beating on the windows and doors, yelling and screaming and creating a disturbance there. When Sgt. Parrott arrived at the scene and conducted an investigation, he charged this subject with criminal trespassing third-degree and disorderly conduct second-degree and lodged him in the Laurel County Detention Center.
Photo attached is courtesy of the Laurel County Detention Center.