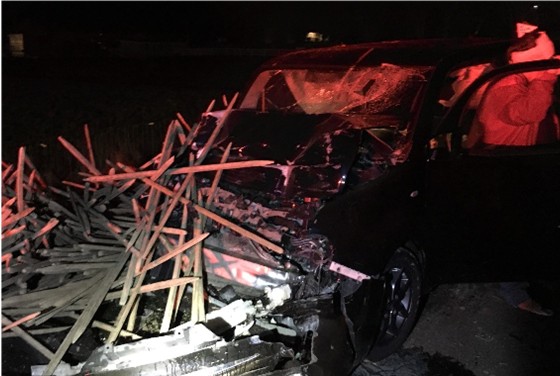 Laurel County, KY - Sheriff John Root is reporting that Deputy Jamie Grimes investigated an injury traffic crash which occurred on KY 229 approximately 9 miles south of London on Sunday evening December 6, 2015 at approximately 6:21 PM.
The investigating deputy reports that apparently a 2010 Nissan Cube struck the rear of the trailer hauling tobacco sticks being pulled by a farm tractor. Dark driving conditions may have contributed to the crash.
The Nissan Cube was driven by Finley Bentley age 66 of London – transported by Ambulance Inc. of Laurel County to St. Joseph Hospital London for treatment of possible injuries.
The driver of the farm tractor was identified as Charles Smith age 34 also of London - no injuries reported.
Assisting at the crash site was London Laurel Rescue Squad and Campground Volunteer Fire Department.
Photo of crash site provided by Deputy Jamie Grimes.