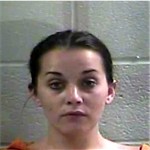 Laurel County, KY - Sheriff John Root is reporting that Deputy Jamie Grimes along with Deputy Rick Cloyd arrested Elizabeth Price, age 30, of Brooklyn Blvd. Apartments, Berea, on Sunday night, December 6, 2015, at approximately 8:38 PM.
The arrest occurred off Jones Road, approximately 2 miles south of London after deputies were dispatched to a domestic disturbance at a residence where this subject and her male friend were refusing to leave and had a firearm in their possession.
When deputies arrived at the scene, this subject was outside the residence and was causing a disturbance there. The male subject had fled the scene prior to deputies arrival. Deputies conducted an investigation on Elizabeth Price determining that she had three outstanding Madison County warrants.
In addition, deputies learned from this subject that she had taken heroin earlier in the day, and deputies determined that this subject was under the influence. Also, she admitted to having a firearm in her jacket which she had hidden behind the residence before deputies arrived at the scene.
When the firearm (45 caliber colt model 1911) was located, it was checked and deputies learned that it was a reported stolen firearm that had been reported to Berea Police Department.
Elizabeth Price was charged with receiving stolen property – firearm and public intoxication – controlled substances. In addition, this subject was charged on a Madison County warrant of arrest charging receiving stolen property and theft by deception – allegedly this subject pawned a Stihl weedeater valued at $300 to a pawn shop in Richmond – the weedeater had been reported stolen.
This subject was also charged on a Madison County indictment warrant of arrest charging trafficking in a controlled substance – first-degree – first offense – herion. This subject was charged on a Madison County bench warrant of arrest for failure to appear in court regarding a charge of theft by unlawful taking.
Elizabeth Price was lodged in the Laurel County Detention Center.
Photo attached is courtesy of the Laurel County Detention Center.