Laurel County, KY - Sheriff John Root is reporting that Sgt. Brett Reeves is investigating a two vehicle injury traffic crash which occurred on KY 80, approximately 4 miles west of London which occurred on Tuesday morning, December 8, 2015, at approximately 9 AM.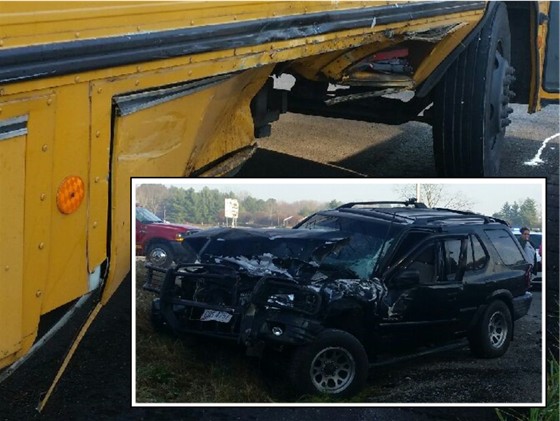 The investigating deputy reports that apparently a Rodeo SUV was traveling eastbound on KY 80 when a Laurel County school bus attempted to cross KY 80 traveling southbound on KY 1535.
The two vehicles collided near the intersection of the two roads. The SUV came to rest in a ditch off KY 1535 and the school bus came to rest on the southbound lane of KY 1535.
The driver of the school bus was identified as Israel Smith, age 39, of Sinking Creek Rd., London – no injuries reported. There were no children on the school bus at the time of the crash.
The driver of the SUV is identified as Timothy Waddle, age 55, Cincinnati Ohio – transported by Ambulance Inc. of Laurel County to St. Joseph Hospital London for treatment of injuries.
Assisting at the scene of the crash was Deputy Gilbert Acciardo, London Laurel Rescue squad, Swiss colony Volunteer fire department, and Laurel County school officials.
Photos of the crash site provided by Laurel Sheriff's office.