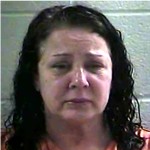 Laurel County, KY - Sheriff John Root is reporting that Deputy Shawn Jackson arrested Tammy Hamilton age 49 of Mill Creek Dr., Corbin on Saturday night December 12, 2015 at approximately 12:28 PM.
The arrest occurred off Mill Creek Drive approximately 10 miles south of London after Deputy Jackson was dispatched to a complaint that this female subject was causing a disturbance and refusing to leave a residence there.
When Deputy Jackson arrived at the scene, he located this subject who appeared to be intoxicated having a strong smell of alcoholic beverages about her person. This subject was yelling and cursing and causing a disturbance there.
Deputy Jackson determined that this subject was under the influence, arrested her, and while traveling to the detention facility to be lodged, this subject slammed her head into the protective screen in the back of the police cruiser causing her nose to become injured. In addition, this subject began threatening Deputy Jackson's life stating "I am going to cut your head off when I get out".
This subject continued to be combative and continued to damage the inside of the police cruiser. When being removed from the cruiser she started to try to physically fight with Deputy Jackson, swinging her arms and kicking with her feet in a threatening manner. In addition, this subject tried to spit blood from her bloody nose onto Deputy Jackson and an EMS crew that had been called to assist.
Inside the booking area this subject attempted to damage carpet by spitting blood into the carpet repeatedly from her bloody nose.
Tammy Hamilton was charged with alcohol intoxication in a public place; disorderly conduct – second degree; resisting arrest; menacing; terroristic threatening – third-degree; and criminal mischief – third-degree and was lodged in the Laurel County Detention Center.
Photo attached is courtesy of the Laurel County Detention Center.