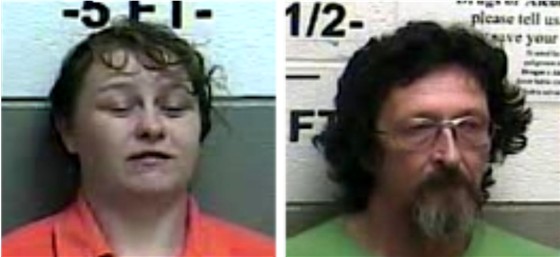 Whitley County, KY - On December 23, 2015 Deputy Cody Harrell went to a residence on River Road with DCBS at their request. The social worker had originally showed up to give the children gifts and just do a check of the home and the three juveniles.
Upon arrival the social worker saw the parents of the children put the children in the car and leave in an attempt to avoid speaking with her. Deputy John Hill and Deputy Cody Harrell stopped the car on Red Bird Road.
Deputy John Hill issued citations to the driver James Walker for: failure to wear seatbelts, too many passengers in vehicle, and failure to produce insurance card.
At the request of the social worker, Deputy Cody Harrell went back to the residence with the parents and the social worker.
The house was in deplorable conditions. The house was infested with roaches and cat urine was present throughout the house. Deputy Harrell seen roaches crawling around boxed food and cooked food that was sitting on the stove. Roaches were seen throughout the house. While Deputy Harrell was looking through out the home roaches fell from the ceiling onto him.
Deputy Cody Harrell arrested Deanne Walker, age 39 and James Walker, age 51 of River Road and charged them both with Endangering the welfare of a minor.
The walker's were lodged in the Whitley County Detention Center without incident.
The children were taken in the custody of DCBS.
Photos of the accused courtesy of the Whitley County Detention Center