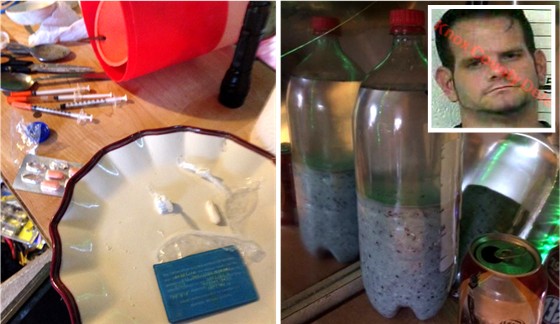 Knox County, KY - Sheriff, Mike Smith is reporting that on December, 23, 2015 Deputy Keith Liford received information of a possible meth lab at a residence on John Carter Road south of Artemus.
After arriving at the location, Deputy Liford found an active two liter plastic bottle One Step Meth Lab that was still bubbling and pressurized.
Deputy Liford also found several ingredients used in the manufacturing of methamphetamine along with 2 plastic bags of finished product suspected to be meth. The plastic bags of suspected meth were on a plate located near several spoons and syringes.
The lab, plastic bags of powder, spoons and syringes were all located inside a camper near the mobile home. The two liter one step lab is the largest single one step meth lab seized in Knox County since Sheriff Smith has been in office. Deputy Liford also stated that it is the largest meth lab that he has seen. The common size of these types of encountered labs are in twenty (20) ounce plastic bottles.
Deputy Liford arrested Ledford Hamilton III age 34 of Artemus, KY charging him with Manufacturing Methamphetamine, Possession of Controlled Substance 1stDegree, Unlawful Possession of a Methamphetamine Precursors and Possession of Drug Paraphernalia.Ledford Hamilton III was also wanted on a Knox County Bench Warrant for failure to appear on Possession of Drug Paraphernalia.
Ledford Hamilton III was lodged in the Knox County Detention Center.
Sheriff Mike Smith, Deputy Carl Frith and Constable Reed Murphy assisted in the investigation. A Kentucky State Police DESI Meth Disposal Unit member also responded to the scene taking possession of the active lab and precursors.
Anyone with information pertaining to possible illicit drug activity in Knox County is encouraged to contact the Knox County Drug Tip Hotline at 595-8105. All information will be kept confidential if the caller chooses to do so.
Scene photos by Knox County Sheriff's Office
Inset photo of the accused courtesy of the Knox County Detention Center