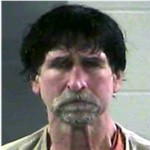 Laurel County, KY - Sheriff John Root is reporting that Deputy Jamie Grimes arrested Kevin Kennedy, age 59, of Summer Hill Dr., Middletown, CT., on Saturday evening, January 2, 2016, at approximately 5:41 PM.
The arrest occurred off Engineer Street in Corbin after Deputy Grimes was dispatched to a theft complaint at Walmart near Corbin in southern Laurel County.
Deputy Grimes learned through investigation that a female subject had apparently lost her wallet outside the store there. Allegedly, a male subject found the wallet in the parking lot, removed $192 in cash from the wallet, and then turned the wallet into customer service inside the store.
Deputy Grimes was able to obtain a surveillance picture of the suspect. A suspect was located off Engineer Street in Corbin and through surveillance photos obtained, was positively identified.
The suspect admitted to unlawfully taking the wallet. $140 was returned to the victim – the suspect advised he had spent the rest.
Kevin Kennedy was charged with theft by unlawful taking and public intoxication – controlled substances and was lodged in the Laurel County Detention Center.
Photo attached is courtesy of the Laurel County Detention Center.