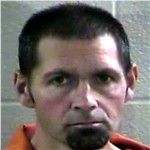 Laurel County, KY - Sheriff John Root is reporting that Sgt. Brett Reeves arrested Elbert Lewis, age 40, of Curry Branch Rd., Manchester, on Sunday afternoon, January 3, 2016, at approximately 1 PM.
The arrest occurred on KY 490, approximately 4 miles north of London after Sgt. Reeves was dispatched to a complaint of a male subject driving a blue colored Nissan Altima that had apparently almost hit several motorists while attempting to pull into a parking lot of a business there.
When Sgt. Reeves arrived at the scene and conducted an investigation, he determined that this subject was under the influence. This subject stated he had taken Suboxone prior to driving.
This subject was charged with operating a motor vehicle under the influence. In addition, this subject was charged on a Grant County bench warrant of arrest for failure to appear in court.
Elbert Lewis was lodged in the Laurel County Detention Center.
Photo attached is courtesy of the Laurel County Detention Center.