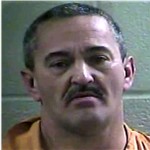 Laurel County, KY - Sheriff John Root is reporting that Deputy Shawn Jackson arrested James Price, age 48, of Villagewood Court, London, early Monday morning, January 4th , 2016, at approximately 2:05 AM.
The arrest occurred off Fariston road, approximately 2 miles south of London after Deputy Jackson was dispatched to an activated burglar alarm going off at a business there.
When Deputy Jackson arrived at the scene, he located this subject on the business property which is enclosed by fences and gates. This subject told Deputy Jackson that he had walked to this location trying to get a job.
Deputy Jackson noted that it was 2 AM in the morning and this business was obviously closed. This subject told Deputy Jackson that he had opened the door to the office which activated the alarm. This subject stated that if the alarm had not activated that he was going to sit in the office and wait for the owner to come in the next morning to see if he would hire him.
Business owners were summoned to the scene to inventory their business and noted that nothing had been taken. Deputy Jackson determined that this subject was under the influence.
Deputy Jackson charged James Price with criminal trespassing – second-degree and alcohol intoxication in a public place and lodged him in the Laurel County Detention Center.
Photo attached is courtesy of the Laurel County Detention Center.