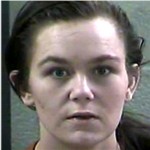 Laurel County, KY - Sheriff John Root is reporting that Deputy Rick Cloyd arrested Viola Carter, age 25, of Cool Camp Rd., Williamsburg, on Sunday afternoon, January 3, 2015, at approximately 2:15 PM.
The arrest occurred at Walmart near Corbin in southern Laurel County after Walmart loss prevention team detained this subject. When Deputy Cloyd arrived at the scene and conducted an investigation, he learned that this subject had allegedly attempted to leave the store with $89.94 in unpaid merchandise.
In addition, Deputy Cloyd determined that this subject was under the influence – she had allegedly snorted some type of medication and still had blue pill residue around her left nostril.
This subject was also found to be in possession of a small plastic bag that contained suspected crystal meth and also had Suboxone strips hidden in a makeup compact. Viola Carter was charged with theft by unlawful taking – shoplifting; public intoxication – controlled substances; and possession of a controlled substance – first degree – first offense – methamphetamine.
Viola Carter was lodged in the Laurel County Detention Center.
Photo attached is courtesy of the Laurel County Detention Center.