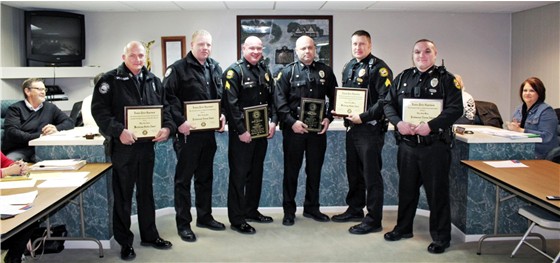 Awarded at the London City Council Meeting Monday, Jan. 4th, 2016
Sgt. Richie Reynolds – Supervisor of the YearSgt. Reynolds has displayed loyalty, dedication, and superior service for the year of 2015 to the citizens of London and the London Police Department.
Ofc. Travis Couch – Officer of the YearOfc. Couch embodies a high moral character and has demonstrated exemplary performance in all areas.
Sgt. Randy Medlock – Meritorious Service Award & Medal: Awarded to a department officer for his diligence and perseverance in performing a difficult task in which: a life or property was protected, a criminal was apprehended or a crime was prevented, in most cases without prior knowledge from an outside source.On Dec. 26, 2014 Sgt. Medlock responded to medical assistance call on Spring street in London. He was the first responding unit to the scene finding the victim unresponsive and not breathing. He immediately began CPR on the victim and continued life saving efforts until the emergency medical personnel arrived on the scene to take over and transport the victim to the hospital where the victim received further life saving treatment."Sgt. Medlock's quick reaction and efforts to save a human life reflect the values and goals of the London Police Department and reflect highly on Sgt. Medlock and the London Police Department," said Chief Derek House.
Ofc. Greg Turner – Meritorious Service Award & MedalThe London Police Department responded to a 9-1-1 call on KY 192 on Saturday, August 8

th

at 10:10 p.m. and ended up saving a life. Officer Greg Turner was the first to arrive on the scene and discovered a suspicious male subject who appeared as if he was attempting to jump off the KY 192 bridge near College Park Drive.Officer Turner immediately informed dispatch of the suicidal subject and immediately began putting his crisis intervention training into action. Upon the arrival of more officers, the officers witnessed the male subject resting in front of Officer Turner's patrol vehicle."I asked Officer Turner what had transpired, and he informed me that the male subject was standing on the rail with his arms extended outward," London Police Sgt. Richie Reynolds said, "Officer Turner spoke with the man in such a manner as to coax him off of the rail. Once the male put his food on the ground, Officer Turner immediately went over and took physical control over him and took him to a safe and secure area.

Ambulance Inc. of Laurel County arrived shortly after to transport the subject to the hospital.

"The man hugged Officer Turner and told him he owed him his life," Sgt. Reynolds said.
Ofc. Drew Wilson and Ofc. Jeremy Shell – Professional Esteem Award
London Police Officers Jeremy Shell and Michael Wilson responded to a complaint that resulted in a weighty decision on Saturday, August 1

st

when a man operating a motorized wheelchair needed assistance on North Main Street at the London Utilities Office.Upon the Officers' arrival, it was determined that the man's wheelchair battery had died and he was attempting to return home on Maple Avenue. Officers Shell and Wilson determined it would take approximately two hours to charge his wheelchair. RTEC's transportation service was unavailable at the time, which prompted the Officers to act upon the next best alternative—which was to push the man and his more than 300lb wheelchair to his residence. Officers pushed for about half of a mile until they reached the man's residence.