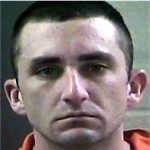 Laurel County, KY - Sheriff John Root is reporting that Sgt. Larry Parrott along with Deputy Tommy Houston arrested Alexander Sizemore, age 30, of Horse Creek Rd., Corbin, early Wednesday morning, February 3, 2016, at approximately 3:53 AM.
The arrest occurred on Adams Road, approximately 11 miles south of London after deputies were dispatched to a complaint that a male subject was passed out in a silver colored Pontiac Bonneville at the gas pumps at a truck stop there.
When deputies arrived at the scene, they found this subject passed out sitting in the driver seat with the keys in the ignition and the motor running. Deputies conducted an investigation and determined that this subject was under the influence – he admitted taking Gabapentin and Suboxone earlier.
In addition, during the arrest, deputies found this subject in possession of 12 Suboxone strips, Gabapentin, and Clonzapam. Deputies also found three needles in the subject's possession and one in the driver's seat of the vehicle.
Alexander Sizemore was charged with operating a motor vehicle under the influence – second offense; possession of drug paraphernalia; possession of a controlled substance second-degree; and numerous other traffic offenses.
Deputies also determined during the course of their investigation that this subject was the same subject they had been looking for regarding a complaint they had checked at Campground Court, Apartments 10 miles south of London on January 28, 2016, where allegedly a male subject had pulled into the apartment complex, struck a pedestrian causing minor injury to the pedestrian's legs, then struck three vehicles in the parking lot before backing up in a reckless manner striking a fence that borders the property and fleeing the scene. Pieces of the subject's vehicle was found there.
Alexander Sizemore was also charged with leaving the scene of an accident – failure to render aid or assistance; wanton endangerment – second-degree; failure owner to maintain required insurance – first offense; and other traffic violations.
Alexander Sizemore was lodged in the Laurel County Detention Center. Photo attached is courtesy of the Laurel County Detention Center.