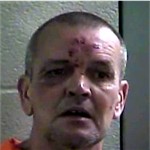 Laurel County, KY - Sheriff John Root is reporting that Deputy Tommy Houston arrested J. B. Gray, age 53, of North KY 830, Corbin, early Wednesday morning, February 3, 2016, at approximately 3:50 AM.
The arrest occurred off Valley Brook Place, approximately 10 miles south of London after Deputy Houston was dispatched to a disturbance call where reportedly an intoxicated individual was yelling he was going to kill someone.
When Deputy Houston arrived at the scene, this subject continued to create a disturbance yelling obscenities at Deputy Houston and creating a disturbance in the neighborhood.
Upon arrest, this subject continue to create a disturbance and while en route to the Sheriff's office to be processed, this subject threatened to kill Deputy Houston and his wife after he got out of jail.
At the Sheriff's office, this subject refused to exit the patrol car and had to be physically removed and taken to the Laurel County Detention Center.
J. B. Gray was charged with disorderly conduct – second degree; menacing; terroristic threatening – third-degree; and resisting arrest and was lodged in the Laurel County Detention Center.
Photo attached is courtesy of the Laurel County Detention Center.