Whitley County, KY - The Whitley County Sheriff's Department is reporting that on Sunday, February 7, 2016, Deputy James Fox responded to a reported disturbance at an Upper Mulberry Road residence.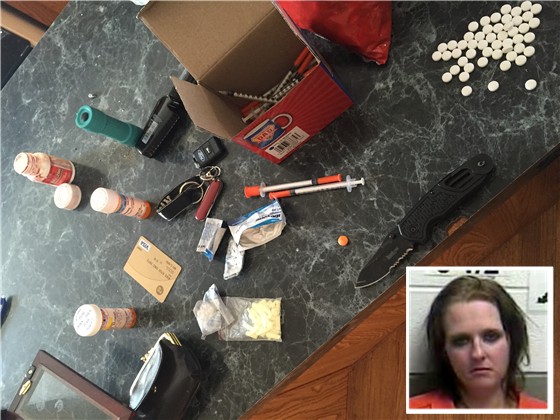 Earlier in the day, Deputy Derek Eubanks and Williamsburg Police Officer Mike Taylor responded to the area regarding issues with the same female subject, 28-year-old Nickie N. Carpenter.
Upon arrival, Dep. Fox was met by a member of Carpenter's family, who directed him to her bedroom. Carpenter appeared intoxicated and made incoherent statements. She stated she was under the influence of methamphetamine and a synthetic drug commonly referred to as "bath salts."
Carpenter refused Dep. Fox's commands to reveal an object in her hand and resisted arrest.
Located nearby were syringes and a bag containing what's believed to be Xanax and clonazepam. A further search revealed property previously reported to Dep. Fox as stolen from a nearby residence. The items included jewelry and medicine still labeled with the theft victim's name.
Upon arrival at the Whitley County Detention Center, Carpenter was given the opportunity to surrender any illegal items in her possession. She denied having such, but a search from a female deputy jailer revealed a bottle containing a quantity of what's believed to be diazepam pills.
Carpenter is charged with resisting arrest, first-degree disorderly conduct, three counts of third-degree possession of a controlled substance, possession of drug paraphernalia, receiving stolen property (valued over $500 but less than $10,000), and first-degree promoting contraband.